Welcome to BayAreaJump.com
We are dedicated to provide a top quality, clean, and safe jumping environment. We have built our family owned company on superior customer service and keeping all of our equipment in tip-top condition. Clean units, friendly and reliable drivers, and a great price is all you need for your next birthday party, company picnic, church function, or any special event. Order Online or call our office if you want book with us or just to ask more questions, (800) 514-5867 we are open 7 days a week from 8:00am to 5:00pm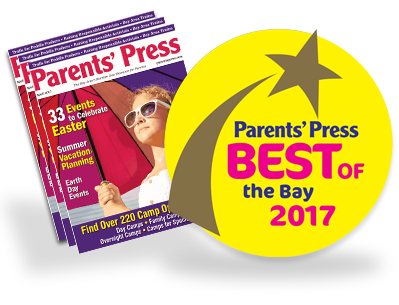 Rain Policy: In the event of rain Bay Area Jumps policy is that a customer can cancel the delivery with no charge. (deposits and payments are held for one year and can be used on future rentals. No Refund of payments or deposits) If the customer elects to accept the unit(s) they understand that there is no refund . If it does rain the units are still usable. Bay Area Jump recommends, that in light rain or showers that most of our units are covered and it's fine for kids to jump. If the rain becomes heavy, have the kids exit the unit and go inside and wait for the rain to quit. The units will accumulate water (it will bubble at the seams, this is normal) so have an adult or teen go inside the unit with a towel and dry out the unit and its ready for use again. Please leave units inflated until the driver arrives to pick up.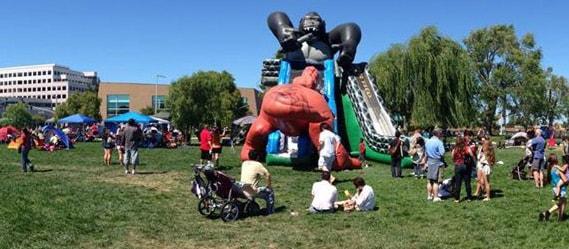 Very Large Inflatables
At Bay Area Jump we are your large event specialists and we have the Bay's best inventory of supersized inflatables perfect festivals and large promotional events. Click the link below to see what BayAreaJump.com can do!
Get Details Now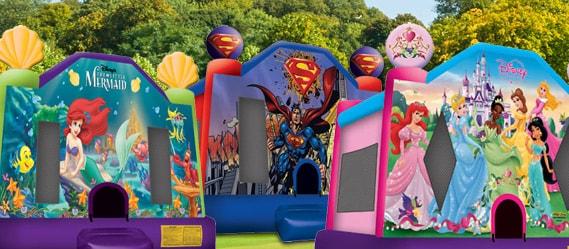 Character Themed Jumps
BayAreaJump.com has over 500 units to choose from, like our awesome line of character themed jumper rentals. Invite all your favorite cartoon and movie chartacters to your party. All are licensed art and ready to party!
Get Details Now