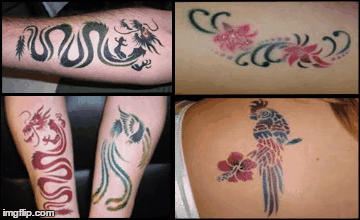 Airbrush Tattoo's (2 hours)
Outlets: 1 electrical outlet needed for 1 airbrush unit
Attendants: 0




Entertainers
What Are Airbrush Tattoos?
Airbrush tattoos are temporary tattoos that are sprayed on using a system very similar to the one used for doing airbrush art. The airbrush itself is often smaller than the airbrush used for artistic purposes, and the person applying the tattoo will normally use a stencil to help create the design. The ink used is also different, as it must be hypo-allergenic and approved by the FDA.
Why Get a Spray On Tattoos?
Airbrush tattoos can last from seven to fourteen days - far longer than your average temporary tattoo. They take only a few minutes to apply, and you can normally have customized stencils made for you, allowing you to have a completely unique temporary tattoo. They are waterproof, but easily removed with baby oil.
How Are They Applied
There are five simple steps to getting an airbrush tattoo:
First: The skin where the tattoo will be applied is thoroughly cleaned with rubbing alcohol to remove any dirt or oil.
Second: The stencil that is to be used is also cleaned. Although there isn't the same type of risks for skin infections as a normal tattoo would have, you still want to make sure you aren't having something placed on your skin that was on someone else's.
Third: The tattoo is airbrushed on. This can take fifteen to twenty minutes, depending on the number of colors and the intricacy of the design. Depending on the stencil you choose, there may be several stages with different layers.
Fourth: The overspray is removed, again with rubbing alcohol.
Fifth: The tattoo is dusted with talc to help it dry and set it.
How To Get an Airbrush Tattoo
Bay Area Jump can provide an experienced spray on tattoos artist for your party, company picnic or any other type of gathering. Book here for two hours for one low price, any addition time is charged at $100 per hour. We need electricity to power compressor. Appox 20 Kids in 2 hrs. Add an extra hour for $100.00. If there is a travel fee to go to your town that amount must be paid for Entertainer also(CALL OFFICE).You must pay Entertainer in full as they can NOT be cancelled..